A highly popular service offered by D.Voth Consulting. You can't afford not to experience this!
Career & Behavioural Style Analysis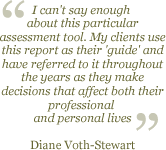 Whether you are a senior level professional or a new graduate, it's possible that you are missing valuable knowledge and understanding of who you are and your ultimate potential.
The Career & Behavioural Style Analysis is a highly accurate, state-of-the-art computer-generated report. With the facilitation of a professional career strategist, it will give you focus, an accurate assessment of your personal strengths and skills and list specific jobs and work environments that directly match up with your personal behavioural style.
Included in this report and in the one-on-one motivating consultation are:
A list of your unique strengths and personal characteristics
Your ideal environment
Your natural style - the real you; your adapted style - how you respond to your present environment and why
Basic needs that have to be met in order for you to perform at an optimum level
Your present wants
Keys to what motivates you
Weaknesses or areas of improvement
Your particular value to an organization
Your communication style and how to effectively communicate with others.
How others perceive you
An action plan to help you realize your goals
And:
A list of occupations/professions custom-tailored to your basic natural behaviour.